GO GREAT ON OUR GREEN
Planing a birthday, reunion, graduation party, Quinceañera and more? Make it happen on our GREEN, the epicenter of the Rainbow Motel in Greeley, CO.
Rent our GREEN between the hours of 11AM and 10PM for your event!
Rent the lush green area for $150 for the first 2 hours and $50 per hour additional for 2+ hours. The clean-up fee is $75 making this the best outdoor space in Greeley to host your special get-together.
Contact us to reserve the GREEN at 970-356-9672.
Greeley's Rainbow Motel offers ray of sunshine after a long, pandemic year with Easter Eggstravaganza


Greeley's Rainbow Motel works to overcome its history and challenges brought about by COVID-19. Photo by Joshua Polson.
By Kelly Ragan
When Jason Vermilye took over as the Rainbow Motel's on-site manager in February, he knew he was facing an uphill battle. Not only has the motel at 105 N 8th Ave. in Greeley been working to overcome its history, but COVID-19 hit the hospitality industry hard.
For decades, the motel was known as a spot frequented by drug dealers, prostitutes and more.
But things started to turn around for the motel in 2018. New owners Nancy Clark and her daughter-in-law, Holly Clark, bought the building. New managers worked to clean up the place, and it reopened its doors in 2019.
Of course, 2020 ushered in its own challenges.
According to the American Hotel & Lodging Association, hotels were one of the first industries affected by the pandemic and will likely be one of the last to recover, as travel ground to a halt in early 2020.
According to a 2021 State of the Industry Report, last year saw more than 670,000 direct hotel industry operations jobs and nearly 4 million broader hospitality industry jobs lost due to the pandemic.
Business travel, according to the association, is forecast to be down 85% compared to 2019 through April 2021 – only then do industry experts expect to see a rebound.
A big contributor to that uptick will be vaccines, as "nearly half of consumers see vaccine distribution as key to travel," according to the report.
So as more folks get vaccinated and the country inches back to normalcy, Rainbow Motel manager Vermilye said he has plans to establish a presence in the community. His first step, he said, will be to host a free Easter egg hunt at noon Saturday, April 3.
Jason Vermilye, new on-site manager at the Rainbow Motel, shows off an Easter basket prize Wednesday, March 17, 2021. Photo by Joshua Polson.
"I want to show the neighborhood that we're a family-friendly establishment," Vermilye said. "Especially after last year, I think we all need a little bit of fun – something to get us out of the house."
Kids who collect the most eggs will score Easter baskets.
Vermilye said as the weather gets nicer and COVID-19 (hopefully) lets up, he plans to host a community BBQ, as well.
He's also reached out to a local high school to see if any art students might be interested in painting another mural for extra credit – one to complement the colorful cow mural celebrating Greeley's agricultural ties on the south side of the building.
Even as Vermilye works to usher in a new, family-friendly era for the Rainbow Motel, his mission, he said, is to maintain the history of the building. Just because the motel has had an unsavory reputation doesn't mean the new owners have to throw the baby out with the bathwater.
"The Rainbow Motel was built in 1956," Vermilye said. "It's one of the last remaining privately owned hotels in the country."
Mom-and-pop roadside motels like the Rainbow exploded in popularity with the advent of the Federal Interstate Highway system and the end of World War II, according to Smithsonian Magazine, earning the name "motel" as an abbreviation of "motor hotel."
Rooms were typically built to be simple and functional, while building facades took the shape of regional style and flair.
When the new owners took over the Rainbow Motel, they found a postcard from when the building was brand new. It boasted of soundproof rooms, radiant floor heating, air conditioning and more. Jason Vermilye, the new on-site manager of the motel, had the postcard framed. Photo by Joshua Polson.
According to CoStar, nearly two-thirds of U.S. hotels were independently owned and operated in 1990. But by 2019, independents made up less than 40% of all hotels in the country. Midscale and upscale hotels, on the other hand, have nearly quadrupled in that same timeframe.
Though the Rainbow Motel now offers free WiFi, Netflix, Hulu and more, Vermilye said he appreciates the boutique, historical elements of the building. When the new owners took over, he said, they found a postcard from when the building was brand new. It boasted of soundproof rooms, radiant floor heating, air conditioning and more.
"Those are all things we take for granted now, but they were things the owners were really proud of when the Rainbow was first established," Vermilye said.
And although the history of the building is important, he said, its story has changed. Clientele are now more likely to be folks staying in town for the Greeley Stampede or Greeley Blues Jam, he said, or even folks who want to stay within walking distance of popular breweries such as WeldWerks Brewing Co., 508 8th Ave., and Wiley Roots Brewing Company, 625 3rd St., Unit D.
"We want people to know this is a good place to be," Vermilye said. "It's worth your time."
WHAT YOU SEE IS WHAT YOU GET!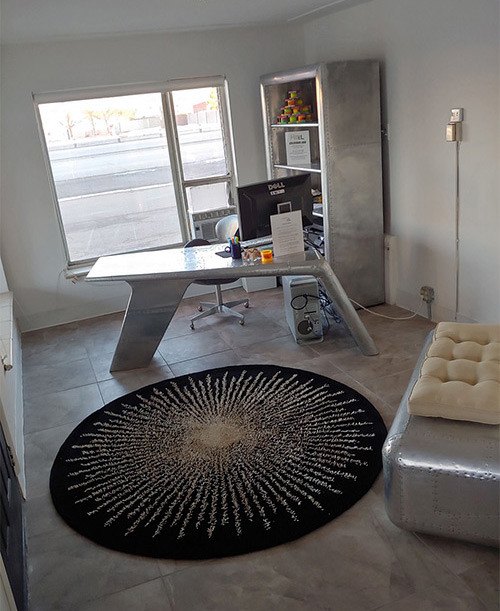 We took advantage of the final weeks of December to give our lobby a facelift. It's an especially significant room in that it's the first impression guests have of what's to come in the rest of their stay at the Rainbow. The fresh paint and new tile floor are as sleek and chic as top tier hospitality brands. Most importantly, the new look signals the professionalism of our operations here in our little corner of Greeley.
24-June 2019
PHENOM MURALIST JOHN GERSICK TRANSFORMS MOTEL
Over at the Rainbow Motel at 105 N. 8th Ave. in Greeley, Colorado, there's new art to catch the eye of passersby. Colorado muralist John Gersick who makes his home in Lamar, Colorado and paints commissioned work region-wide, last week completed a mural of a rainbow-colored cow on the wall of the Rainbow Motel as a tribute to the motel's name and Greeley's roots.
Weld County is the epicenter of cattle and lamb feeding internationally. Warren Monfort started the first feeding and processing company during the Depression and today that family-owned company is a piece of the largest beef feeding and processing company in the world, JBS S.A., with headquarters in Greeley.
About finding Gersick among so many other less-than muralists, owner Jarod Clark said, "When searching for a mural artist, I found it difficult to find the pairing of professionalism, punctuality and mastery of the art. I could not be happier with the experience and also the design of the mural. Every day we now have dozens of people stop by to view his mural.
"We had a blank canvas on the south side of our boutique motel, and we knew we needed something special. We had two small requests, something to do with cows and using multiple colors of the Rainbow. What we received was more than special, it is an incredible piece of art, originating from the imagination and skill of our chosen artist, John Gersick. We are not only pleased and completely satisfied, but astounded by the end result. We now have the bragging rights for the best mural in the town of Greeley," adds Damon Handley, manager of The Rainbow Motel.
Take a drive on 85 and see the Rainbow mural for yourself. Or visit Gersick's website at www.freshpaintcolorado.com to learn more.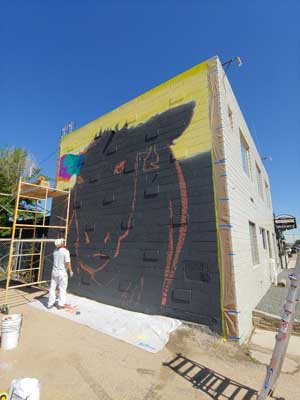 The Rainbow Motel in east Greeley goes from shabby to chic
June 20, 2019
By: Tamara Markard
Greeley Tribune
The Rainbow Motel, 105 N. 8th Ave., hosted a community open house on Tuesday, showcasing a new look and reputation.
Built in 1956, on a site once rumored to be a speakeasy in the days of prohibition, the motel slowly deteriorated over the years — both structurally and clientele wise.
The Rainbow Motel has reopened under new management with a fresh facelift, new office, pictured here Tuesday afternoon June 18, 2019, and new in-room modern decor. The motel, located at 105 8th Ave in Greeley, also has a barbecue area and a small Airstream trailer available for meetings. (mbrian/mbrian@greeleytribune.com)
This Airstream trailer, pictured Tuesday afternoon June 18, 2019, is available for meetings at the reopened Rainbow Motel. New management has provided a fresh facelift and new in-room modern decor for the motel located at 105 8th Ave in Greeley. (mbrian/mbrian@greeleytribune.com)
One of the main talking points of the motel grounds is the shiny silver Airstream camping trailer located at the front of the property. Parked on faux grass and surrounded by a white picket fence, the camper draws the attention of guests and passers by alike.
The Rainbow Motel, pictured her Tuesday afternoon June 18, 2019, has reopened under new management with a fresh facelift and new in-room modern decor. The motel, located at 105 8th Ave in Greeley, also has a barbecue area and a small Airstream trailer available for meetings. (mbrian/mbrian@greeleytribune.com)
Wanting the building to be appealing from every angle, artist John Gersick has been commissioned to paint a mural on the backside of the building.
Gersick has been teaching art at Lamar High School since 2007 and has been painting large-scale murals since he was in college at Adams State University in Alamosa.
So far the improvements are paying off, with rooms being booked at a steady pace and the motel's reputation being repaired.
For more information on the Rainbow Motel or to book a room, go to http://www.rainbowmotelgreeley.com or call (970) 356-9672.
RAINBOW MAKES THE TOP 10 LIST
The Rainbow Motel was named to the Top 10 Best Hotels in Greeley list.
The only iconic and original stay on the list compared to newer built hotels, the Rainbow stands out as a destination worthy of the honor.
Journalist Marie Villaceran tells readers not to be fooled by the traditional exterior. The interiors of the rooms at the Rainbow are entirely modernized, ideal for travelers longing for a restful sleep on hybrid memory foam beds and 1000-thread count sheets.
Take a trip back in time when passing through Greeley, Colorado and enjoy the Rainbow delights.
See Top 9 Cool & Unusual Hotels in Greeley, CO | Best Hotel Accommodations in Greeley (uncovercolorado.com).
THE CUMMULATIVE EXPERIENCE
The thing about a great manager is that he/she brings to the managerial position experience that on one level seems unrelated to hospitality and on another is all about making guests feel welcome. Jason Vermilye, Rainbow GM, is exactly that.
His experience at the Wild Animal Sanctuary in Keensburg, CO put him in proximity to lions, tigers, bears and wolves. Seriously. This pro knows how to handle guests in a situation. As well, Jason learned the art of Edible Arrangements working for the eponymous company. He demonstrates his technique in chocolate dipping strawberries in the video below.
If you end up visiting the Rainbow on Valentine's Day in 2022, you'll be delighted at this treat served to our arriving guests.